PRESS RELEASE - Lupus Foundation of America © LFA:


More than Five Million People Worldwide Struggle with Serious and Life-Threatening Disease

More than five million people worldwide, mostly women, face an unpredictable future as they struggle daily with the often debilitating health consequences of lupus, a potentially life-threatening autoimmune disease that causes the immune system to attack the bodyís own healthy tissue.

Facing the potential of strokes, heart attacks, disabling pain and fatigue, disfiguring skin rashes, and other serious health problems associated with the chronic disease - often in the prime years of life - people with lupus from around the globe have banded together to call for more research on lupus, safer and more effective treatments for the disease, and improved healthcare for those affected by lupus.

An international call-to-action has been issued by more than one hundred lupus organizations based in countries around the world to conduct the fourth annual observance of World Lupus Day on May 10, 2007.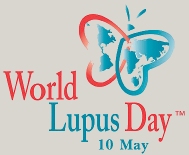 Lupus is an Urgent International Health Problem
Lupus is a disease that targets a group of people who otherwise should be healthy - namely individuals between the ages of 15 and 44. The disease often goes unrecognized because its primary symptoms - joint pain, fatigue, skin rashes, and fevers - mimic many common illnesses, which can cause people to receive treatment for conditions they may not have.

At the present time, lupus has no cure and can be fatal.

It spares no organ - every part of the body can be affected by lupus, including the skin, heart, lungs, kidneys and brain. There have been no new drugs for lupus in over 40 years. Drugs used to control the disease are borrowed from other diseases.

Early Detection and Diagnosis Key to Improving Survival and Quality of Life

Although first recognized by medical science in the late 1800ís, public understanding of lupus continues to be below that of other life-threatening conditions. Lupus is under-recognized as a global health problem by the public, health professionals and governments, driving the need for greater awareness. Early detection, diagnosis and treatment of lupus can help to slow the debilitating effects of the disease.

Improving awareness of lupus symptoms will save lives.

The Global Impact of Lupus

Lupus has a considerable impact on the health-care system and on society, due to the complexity of the disease and its treatment. Depending on which organs are affected, and the frequency and severity of disease activity, individuals with lupus may have to take a number of medicines and therapies, be treated by physicians from several medical specialties depending on which organs are affected, undergo numerous medical evaluations and procedures, and be hospitalized several times per year.

The benefits of awareness and early diagnosis are the primary reasons that lupus organizations around the world, large and small, have agreed to unite to observe World Lupus Day and conduct activities that call attention to the need for improved patient healthcare services, increased research into the causes of and a cure for lupus, enhanced physician diagnosis and treatment of lupus, and better epidemiological data on lupus globally.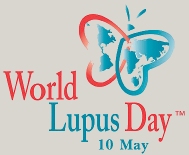 Issues for World Lupus Day

Many physicians worldwide are unaware of symptoms and health effects of lupus, causing people with the disease to suffer several years before they are able to obtain a correct diagnosis and treatment.

There is a deep, unmet need worldwide to educate and support individuals and families affected by lupus, and an urgent need to increase awareness of the symptoms and health consequences of lupus.

Medical research on lupus and efforts to develop safer and more effective therapies for the disease are under-funded in comparison with diseases of comparable magnitude and severity.

No new safe and effective drugs for lupus have been introduced in more than forty years.

Current drugs for lupus are very toxic and can cause other life-threatening health problems that can be worse than the primary disease. These treatments include high doses of corticosteroids, anti-malarial medicines, immunosuppressive and anti-rejection drugs that originally were developed for cancer and organ transplant patients.

Why Observe World Lupus Day?

Increasingly, efforts to identify a cause and cure for lupus are being coordinated on the international level. Multiple lupus clinics around the world are collaborating on studies and clinical trials of potential new therapies.

World Lupus Day provides both a day and a forum for various findings to be shared with the global lupus community.

In addition, observing World Lupus Day offers lupus patients the comfort of knowing their condition is recognized and being addressed on a global level.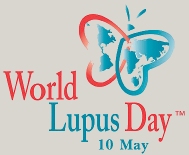 International Congress of Lupus

The eighth international gathering of approximately 1000 lupus scientists, clinicians and patient advocates will be held May 23-27 in Shanghai, China.

The meeting will include all leading lupus specialists from all over the world, including basic medical researchers and clinical experts of different specialties.

The scientific program covers the cutting-edge developments in basic research, updates on the latest advances in the clinical management of the disease and the rapid progress in translational medicine for lupus.

Hope on the Horizon for Lupus

Only a few decades ago, little research was being done on lupus and almost no biotechnology or pharmaceutical companies were engaged in developing and testing potential new therapies.

Today, however, the future appears brighter.

In response to efforts by individuals with lupus and lupus organizations and their advocates around the globe, there is a glow of hope on the horizon for an improved quality of life for people with lupus.

The international effort to study lupus and unravel its scientific mysteries is gaining momentum.

Lupus organizations are generating increased public awareness and educating patients and health professionals about the disease.

Governments are recognizing the need and beginning to respond by providing more funds for medical research and services to help individuals and families who are greatly affected by lupus.

Many of these efforts will be highlighted during the fourth annual World Lupus Day observance on May 10th. For additional information about this global effort to combat lupus, I urge you to please visit the World Lupus Day website at www.worldlupusday.org.